General FFA Camp Sessions
1st Session June 5-9, 2023
2nd Session #1 June 19-21, 2023
2nd Session #2 June 21-23, 2023
3rd Session June 26-30, 2023
4th Session July 5-9, 2023
5th Session July 10-14, 2023
Six Sessions of FFA summer camp is open to all Ohio FFA members. Join other members from all over Ohio for a week at camp you will not want to miss. Activities include dances, athletics, speaking contests, chapter challenges, environmental activities, leadership workshops, meeting state officers, boating, fishing, rifle, shotgun, and archery ranges, overnight camp outs, service projects, and much more.
Student – $265 (Full Week Session) $140 (Half Week Session)  Advisor – $132.50 (Full Week Session) $70.00 (Half Week Session)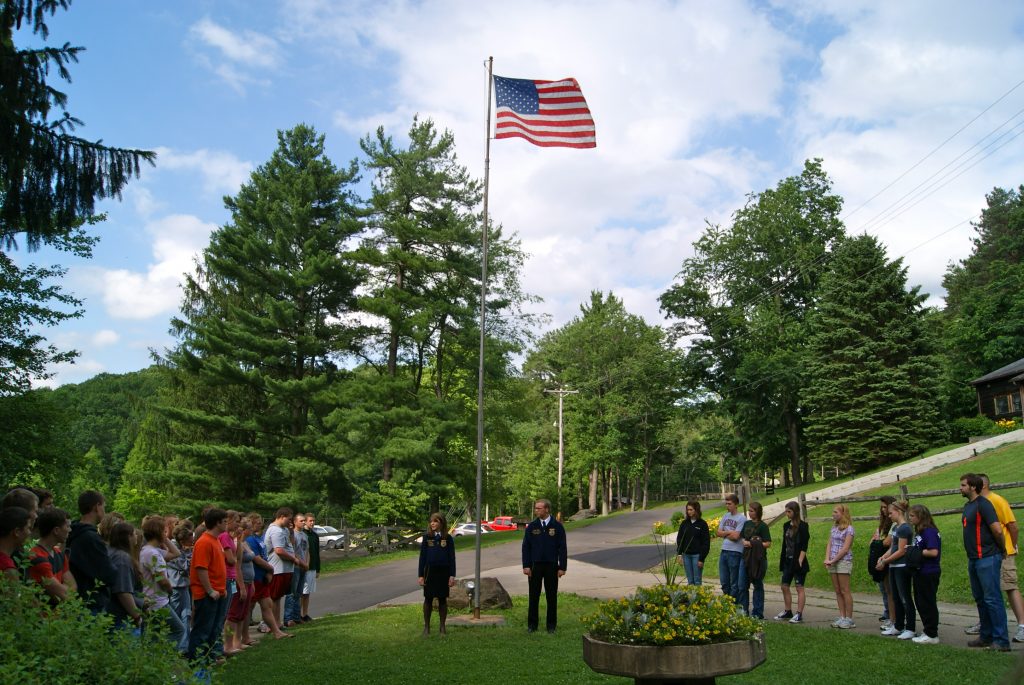 Middle School Camp
Date TBD
FFA Middle School Camp  is open to 6th-8th grade members of the FFA. FFA students that want to gain leadership skills, learn to work as a team, make new friends and connections, and have a great weekend at camp are encouraged to enroll. Camp activities include canoeing and kayaking, archery, campfires, the chance to see and hold the animals at our Nature Center, and hands-on activities with a focus on conservation. Though welcome, advisors are not required to stay for the weekend.
Student – $100 Advisor – $50
Ohio Leadership Camp
June 23-26, 2023
Come join Ohio's finest for OLC.  OLC is open to all FFA members, CTSO students, and Farm Bureau Youth Members.
Student – $175 Advisor – $87.50
Camp Canopy
June 11-16, 2023
Have you ever wondered what types of trees are in Ohio's forests, or what kinds of relationships organisms have with the forest? If so, Camp Canopy is the place to be! Any student who has completed the 8th grade and is at least fifteen years of age is welcome to participate. For registration information please go to the Camp Canopy website.
Cost: $TBD – Scholarships available
Greenhand Camp
Greenhand Camp I – September 22-24, 2023
Greenhand Camp II – September 24-26, 2023
Greenhand Camp is for freshman or sophomore students who are participating in their first year of Agricultural Education. This three-day camp emphasizes team building, goal setting, introductory FFA, and plenty of recreational opportunities.
Student – $100 Advisor – $50
Ag Careers Camp
September 26-28, 2023
Open to all juniors and seniors participating in an agricultural career/special needs taxonomy areas. Arrival at 10:00 am on Monday and departure is at 12:00 pm on Wednesday. First meal is lunch on Monday; last meal is lunch on Wednesday at 11:00 am.
Student – $135 Advisor – $67.50
Fall Orientation Camp
October 9-11, 2023
For all juniors and seniors participating in an agricultural taxonomy at a career center such as animal care, horticulture, agriculture power, food processing, natural resources, environmental management, etc. This three-day camp emphasizes team building, goal setting, and plenty of recreational opportunities.
Student – $100 Advisor – $50