Administrative Staff
Todd Davis- Camp Director
Todd has been the Camp Director here since March of 1996. Todd grew up a part of FFA including being an officer. Todd can't pinpoint only one thing that he loves about camp. He loves the friendships that he's able to make with staff and guests as well as the impact that Camp can have on future generations. In his spare time, Todd spends time with his wife Kim and their three children, Garrett, Kady and Allison, as well as working on their farm.
Jody "Scuttle" Rutten- Program Director
Jody has been at FFA Camp Muskingum since 2008 starting as an Instructor and then in 2009 moving up as the Assistant Director and then in 2011 taking over as the Nature's Classroom Director. Jody loves that Camp gives people of all ages a chance to learn about themselves and the beauty of the natural world around them. In her spare time, Jody likes to visit family in Pittsburgh, play bagpipes with the Celtic Eagle Pipe Band, go to Disney World on a regular basis and hang out with her cat Riblet and Chicken and Pancetta the fish.
Alyssa "River" Bock – Program Director
Craig has been an Instructor with Nature's Classroom since 2014 and in January of 2016 moved to the year round position of Nature's Classroom Assistant Director. Craig loves that at Camp he can be outside and watch children learn about nature through hands on activities as well as seeing them taking steps outside of their comfort level. In Craig's spare time he loves to sleep, run and eat.
Operational Staff
Jim Sutton – Maintenance Manager
Jim has been the Maintenance Manager at Camp since July 2017.  Jim was the foreman on the construction of the Muskingum Discovery Center and loved Camp so much that he is still here. In his spare time, Jim enjoys spending time with his family and pets.
Justin – Groundskeeper
Shawn started working as the groundskeeper in 2018. In his spare time, Justin enjoys spending time with his wife and daughter.
Ray Stackhouse- Maintenance Assistant
Ray has been at Camp Muskingum since 2007 as the maintenance assistant.
Pictured from left: Ray Stackhouse
Gerry Marteney- Kitchen Manager
Jonna Simpson – Housekeeper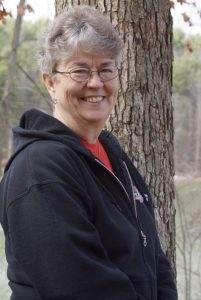 June Shuster- Nurse
June has been the nurse at Camp since 2014. June comes to us with many years of experience as a Registered Nurse in Canton. In her spare time, June enjoys hiking, being outside and spending time with her grandchildren. June serves as the Nurse during Nature's Classroom and FFA Summer Camp.